When:
January 13, 2017 @ 10:30 am – 12:30 pm
2017-01-13T10:30:00-08:00
2017-01-13T12:30:00-08:00
Where:
Youngstown Cultural Arts Center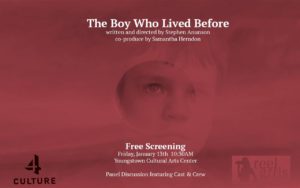 Director, Producer, cast and crew members in attendance! This Seattle-made feature film explores the mind of a boy who deeply contemplates his identity, both in terms of who the kind of person he wants to be, and the kind of person he might have already been. Meet Cody, who has memories of a previous life. These memories present themselves in the forms of visions, dreams, and daily routines. In an attempt to understand where he comes from, Cody delves into the online world, eventually attracting the interest of a budding film crew looking for outrageous stories. Cody's big brother Oliver is his confidant, guide and co-questioner as the pair move through changing Seattle landscapes. Family dynamics, urban life and identity are all in flux.

The film will screen at 10:30AM at Youngstown Cultural Arts Center, followed by a panel discussion. Run time is 65 minutes. Bring your friends and your questions! The film is appropriate for middle school and high school age students. RSVP not required.

We are grateful to Reel Grrls, 4Culture, Youngstown Cultural Arts Center and the Delridge Neighborhoods Development Association for their help in putting together this community event!