When:
June 2, 2017 @ 3:30 pm – 5:00 pm
2017-06-02T15:30:00-07:00
2017-06-02T17:00:00-07:00
Where:
Youngstown - South Classroom (111)
4408 Delridge Way SW
Seattle, WA 98106
USA

MOTH
Fashion Design Studio for Kiddos 5 – 7
Every Friday in May, 3:30-5p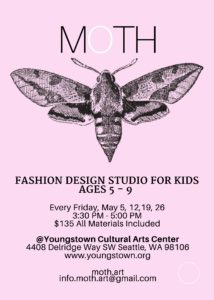 Part 1: Design Exploration
Part 1 will focus on Research & Design for Fashion. This is the initial stage where we find our inspiration and come up with ideas.
We will collect and examine images that will serve as inspiration and a base for our designs. We will each create a mood / inspiration board based on our research of trends, colors, silhouettes, season, etc.
We will give a brief explanation of our inspiration and ideas, and proceed to do our initial sketches.
During this stage we'll take some time to talk about the Elements of Design and basic Sketching Techniques. Templates of Croquis (fashion figures) will be provided for those who wish to use them. After covering the basics, we will start sketching our designs. We will aim for 3 – 5 different looks, which will form our mini collection. We will polish our final sketches and make a presentation of our collection. Presentation is optional.
At the end of Part 1 you will have a portfolio with your mini collection to showcase to friends and family, and ready to use for Part 2 of the Program.
Topics to be covered:
Intro to Fashion Design
Design Elements
Collage-Making
Fashion Figure Drawing (Croquis)