Select your calendar view below.
If you wish to rent facilities, please contact the Events Manager to confirm schedule availability.
Sep
23
Sat
Resilience: LGBT+ Open Mic Night

@ Movement Studio
Sep 23 @ 3:30 pm – 6:30 pm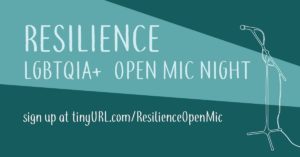 This is an event showcasing LGBTQIA+ strength and creativity; all stories, performances and presentations are welcome. Local organizations specializing in LGBTQIA+ resources and causes are invited to share, as well! 
Sign up for an Open Mic time slot here: https://goo.gl/forms/nFX6DkuVboz0XK9s1
RESILIENCE: LGBTQIA+ Open Mic Night
Saturday, Sept. 23 @ 3:30 – 6:30pm
Youngstown Cultural Arts Center – Movement Studio
4408 Delridge Way SW – Seattle, 98106
Questions? Please don't hesitate to contact Sara Parolin.