Select your calendar view below.
If you wish to rent facilities, please contact the Events Manager to confirm schedule availability.
Mar
2
Fri
DESTINATION DELRIDGE 2018: Oh, The Places We'll Grow!

@ Metropolist
Mar 2 @ 6:00 pm – 9:00 pm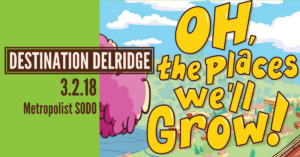 Dear Friend of DNDA,
We invite you to be a part of our annual fundraiser party, Destination Delridge: Oh, The Places We'll Grow. Please join us as we celebrate DNDA's continuing legacy of groundbreaking community work in Art, Nature, and Neighborhood.
March 2, 2018 will be an exciting evening filled with fabulous food and drink, live entertainment, music, art and interactive games. Mingle and connect with 200+ attendees who share your passion for social justice and our community, as we gather to support DNDA's Art, Nature, and Neighborhood programs. The evening's venue, Metropolist in SoDo, incorporates urban elegance with turn of the century style and provides the perfect space. Most importantly, proceeds from the event directly benefit our community in Southwest Seattle. Today, our Let's Talk Race Series, Wetlands Restoration & Stewardship Project, Youth Programs at Youngstown Cultural Arts Center, 7 Affordable Housing sites and DNDA's Restoration Program, all showcase our vision for this community. Now more than ever, your involvement ensures that we can continue our vital programming, and our ongoing commitment to amplify the voices of all who live, work and play in Delridge.
For the past 20 years, DNDA has brought together neighbors, non-profits, businesses and local government to build community in Delridge and beyond.
If you can't make the party, but would like to donate, click here: https://dnda.ejoinme.org/Delridge18. THANKS for your support.
Celebrate with us!
-DNDA