Select your calendar view below.
If you wish to rent facilities, please contact the Events Manager to confirm schedule availability.
Dec
15
Fri
3rd Annual Northwest A Cappella Seasonal Showcase

@ Youngstown - Thelma Dewitty Theatre
Dec 15 @ 7:00 pm – 10:30 pm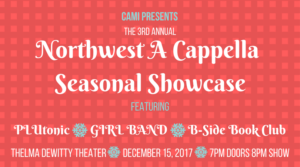 The Contemporary A Cappella Musicians' Institute is excited to present the 3rd annual Northwest A Cappella Seasonal Showcase! Come celebrate the season at this family friendly holiday showcase as some of the PNW's most entertaining contemporary a cappella groups take the stage!
The 2017 Northwest A Cappella Seasonal Showcase will feature:
PLUtonic Acappella
GIRL BAND
B-Side Book Club A Cappella
Doors Open at 7:00pm
Show Starts at 8:00pm
Online Presale: $12 General Admission Seated (+online service fees)

At the Door: $15 General Admission Seated
————————–————————–————-
The purpose of the Contemporary A Cappella Musicians Institute (CAMI) is to educate, empower, and provide resources for a cappella musicians of all levels. By hosting concerts, workshops, clinics, and networking events, CAMI strives to foster growth in the quality and reach of contemporary a cappella. CAMI is a non-profit organization as described in Section 501(c)(3) of the Internal Revenue Code; all donations, proceeds, and revenue go directly to CAMI programs and CAMI sponsored events.