Select your calendar view below.
If you wish to rent facilities, please contact the Events Manager to confirm schedule availability.
Jun
3
Sat
The Magic Trunk

@ Youngstown - Thelma Dewitty Theatre
Jun 3 @ 6:30 pm – 9:30 pm
Join us on a fun and imaginative journey to see what is inside The Magic Trunk!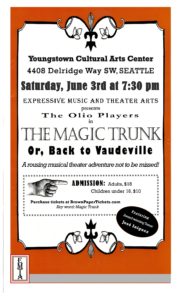 The Magic Trunk is a classic tale of Good vs. Evil. Curiosity gets the best of a janitor one night when she discovers a mysterious trunk. When she opens it, she unwittingly releases the magical world of Vaudeville and the Vaudevillian Master of Ceremonies who is determined to spread the word of vaudeville. But hiding in the wings is his nemesis Cy Nickle, who is determined to destroy the memory of Vaudeville for all time. Then hilarity ensues.
The Olio Players consists of local West Seattle talent.  Directors Bert Gulhaugen & Jerry Hasley promise to have you laughing and stunned at the same time.  The cast ensemble features our local award winning Tenor, Jose Iniguez.
LA MAGIA DEL TRONCO
(Spanish)
Acompáñenos en un viaje divertido e imaginativo para ver lo que está dentro de la magia del tronco
El Tronco Mágico es un cuento clásico del bien contra el mal. Curiosidad obtiene lo mejor de un conserje una noche cuando descubre un misterioso tronco. Cuando la abre abre involuntariamente el mundo mágico de Vaudeville … y el Vaudevillian Master of Ceremonies que está decidido a difundir la palabra de vaudeville. Pero esconderse en las alas es su némesis Cy Nickle que está decidido a destruir la memoria de Vaudeville para todo el tiempo y la hilaridad se produce.
Los jugadores de olio consiste en el talento local de seattle del oeste. Los directores Bert Gulhaugen y Jerry Hasley prometen que usted se rió y se sorprendió al mismo tiempo.
El elenco cuenta con nuestro premio local ganadora tenor, Jose Iniguez.