Select your calendar view below.
If you wish to rent facilities, please contact the Events Manager to confirm schedule availability.
Jun
23
Fri
Youngstown Poppin' Movie Mixer

@ Youngstown - Thelma Dewitty Theatre
Jun 23 @ 6:15 pm – 9:30 pm
Join us for the 1st-ever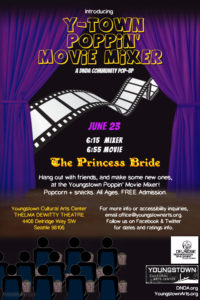 Youngstown Poppin' Movie Mixer !
Feature Presentation:
The Princess Bride
Youngstown Poppin' Movie Mixer is a community endeavor to build relationship between movie-loving neighbors. Movies are selected with no aim other than FUN – pop-up style!

Every movie night will begin with a short mixer wherein guests have an opportunity to meet featured organizations and local vendors, and make new friends! Free admission, but grab a ticket anyway! Popcorn and snacks available. Movie starts around 7:00 in the Thelma Dewitty Theatre.

Poppin' Movie Mixer is for everyone, and all ages. Parents/Guardians, please be mindful of movie ratings, which will be announced in advance of every screening. Be sure to follow our Facebook Page for info and updates in Events. (Especially important with a pop-up!)
Join us for the contemporary classic, The Princess Bride, Friday, June 23 at 6:15p, and let's turn Youngstown into a giant community living room!
*ADA accessible
Questions, email: office@youngstownarts.org.
---
Have a local non-profit business or trade? Be our co-sponsor!