Select your calendar view below.
If you wish to rent facilities, please contact the Events Manager to confirm schedule availability.
Dec
15
Fri
Dog Pound Breakdance Class

@ Youngstown Movement Studio
Dec 15 @ 3:45 pm – 4:45 pm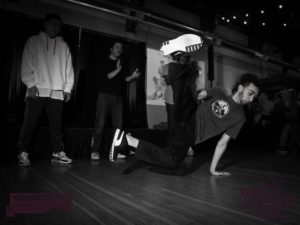 A fun and challenging class for students of all ages and experience levels to participate in. Students will work closely with Dog Pound Crew members Bobby Drake and Sammy to learn and master the art of breakdance (or "breaking").
The primary mission of this class is to provide an artistic outlet for youth in a safe, welcoming environment. Dog Pound Crew will work with youth to establish and develop skills both on and off the floor, including provide advice for topics such as succeeding in middle/high school, college applications, etc. Youth will have opportunities to perform at local events and attend various out-of-class field trips.
 About Robert & Sammy
Robert: As most know, (and if you didn't, now you will), I grew up in the foster care system from ages 7-12 in Sacramento. I moved around a lot, not knowing what stability was. When I finally was released back into the care of my parents I thought I had found a place to call home. Shortly after, my baby sister had passed away. As a result, my brother Steven and I were sent to Seattle to stay with our dad and sister.
By this point I knew I would never experience stability. I lost hope. I didn't want to meet anyone new in fear of switching schools for a seventh time and starting fresh…again. I skipped classes. I didn't care about anything to be completely real.
Then in February of 2005 I started taking a breakdance class at Denny Middle school through an organization called ArtsCorp. I would skip school but never miss a breaking class. Time went on and my teacher Jerome noticed me constantly putting my passion into the art. Breaking was all I had. He introduced me to his advanced class at this building here: Youngstown.
Through the Youngstown class I met my crew, worked with amazing people, developed my skill, and as a result have been able to tour, perform, compete, and just dance all across the globe. This year alone I will be making my way to Taiwan, Japan, and Korea to dance – a dream of mine since middle school. Through art and passion, your dreams really can come true.
Dancing even got me interested in school again. Where I was once failing, it pushed me to work my butt off to catch up and be able to graduate UW with two degrees in chemistry and biochemistry.
Sammy and I are continuing the legacy by passing it on to the next generation of students. Every Monday from 3:30-4:30 pm we will be teaching a class of our own at the incredibly historic Movement Studio located inside the building. The class is completely free – we just want to pass on the opportunity for students to find themselves just as we were given. There is also an additional advanced class from 5:30-6:30 pm that costs ~$60/month. The proceeds will go toward an end-of-year field trip to an out-of-state event that Sammy and I will be sponsoring. All ages welcome. Location: 4408 Delridge Way SW, Seattle.
If you're a teacher, parent, or anyone closely involved in the life of a youth, I urge you to share this class with as many of the other teachers/parents, and especially with the youth. Spread the word – let's impact the next generation together.
3rd Annual Northwest A Cappella Seasonal Showcase

@ Youngstown - Thelma Dewitty Theatre
Dec 15 @ 7:00 pm – 10:30 pm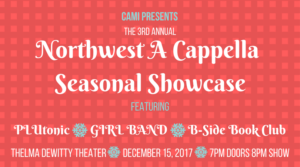 The Contemporary A Cappella Musicians' Institute is excited to present the 3rd annual Northwest A Cappella Seasonal Showcase! Come celebrate the season at this family friendly holiday showcase as some of the PNW's most entertaining contemporary a cappella groups take the stage!
The 2017 Northwest A Cappella Seasonal Showcase will feature:
PLUtonic Acappella
GIRL BAND
B-Side Book Club A Cappella
Doors Open at 7:00pm
Show Starts at 8:00pm
Online Presale: $12 General Admission Seated (+online service fees)

At the Door: $15 General Admission Seated
————————–————————–————-
The purpose of the Contemporary A Cappella Musicians Institute (CAMI) is to educate, empower, and provide resources for a cappella musicians of all levels. By hosting concerts, workshops, clinics, and networking events, CAMI strives to foster growth in the quality and reach of contemporary a cappella. CAMI is a non-profit organization as described in Section 501(c)(3) of the Internal Revenue Code; all donations, proceeds, and revenue go directly to CAMI programs and CAMI sponsored events.