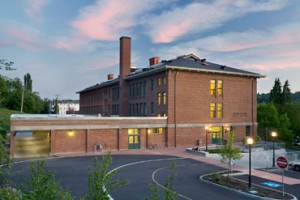 Youngstown Cultural Arts Center is an inclusive contemporary multi-arts hub in the Delridge Neighborhood of Southwest Seattle that incubates the arts, art-makers, and organizations from our multicultural, inter-generational communities in order to engage in civic dialogue and meaningful community transformation.
Youngstown is included in the national register of historic spaces, hosting over 45,000 participants annually.  Youngstown Neighborhood History.
AFFORDABLE SPACE FOR ARTISTS & COMMUNITY ARTS
Youngstown rents high-quality, affordable arts facilities for community organizations and creatives. These facilities include a full theater, movement studio, recording studio, kitchen, and classroom space.  Youngstown also houses offices for several other nonprofit organizations at below-market rates, and provides 36 live-work spaces for low-income artists of all disciplines.
TECHNICAL EXPERTISE IN THE PERFORMING ARTS
Youngstown's professional, friendly technical staff holds expertise in stage, lighting, sound, and event management, allowing users to present and perform at the highest level of quality at affordable rates.
ARTS SPACE DEVELOPMENT AND CREATIVE COMMUNITY ENGAGEMENT
Youngstown works and partners with local producers and performers, and offers consultation and technical assistance to groups developing creative projects, new multi-use facilities, and groups seeking to engage diverse communities, especially youth, in successful community-based initiatives.
DELRIDGE NEIGHBORHOODS DEVELOPMENT ASSOCIATION
The Youngstown Cultural Arts Center is a program of Delridge Neighborhoods Development Association (DNDA), a private nonprofit organization based in West Seattle.  DNDA is dedicated to engaging the community in creating a thriving Delridge.
Since 1996, DNDA has brought together Delridge neighbors, other nonprofits, the business community, and local government to build community, preserve affordable housing, design and build a trail along Longfellow Creek, bring a new library to the community, and assist dozens of groups with their community projects. Much of DNDA's work combines multiple goals, such as providing affordable housing, while enhancing the pedestrian environment and supporting local artists. DNDA raised $12 million to acquire and complete the historic renovation of the Youngstown building as part of their "three projects | one community" campaign, receiving tremendous financial support from throughout the community.
ANNUAL REPORT
2016 Annual Report