Youngstown 100 was definitely the party of the century!
Around 200 people came to celebrate the beautiful 100-year-old Historic Cooper School, now Youngstown Cultural Arts Center this past Sunday, December 3rd. It was a "back to school" experience for 20 Cooper Alumni, and a first-time visit for about 15 party-goers. All were excited to learn about this vibrant arts and cultural space committed to youth and the community, as well as the affordable housing provided for the individuals who do the work of uplifting Art in our world.
In the spotlight of Youngstown's Thelma Dewitty Theatre were groups that regularly use Youngstown space for classes and events. The lively program began with a hallway parade of bells and scarves by Leslie Rosen's belly dance students, Sirens of Serpentine. They were followed by young singer-songwriter and Totem Star artist Zoë Roberts, whose crystal clear vocals and acoustic guitar filled the theatre and our hearts. Grupo Candeias Seattle was a hit, with a performance combining youth and adults in a game of dance. One very young student confidently led the group in a chant, and the crowd cheered at amazingly-executed kicks and flips at the height of the presentation.
Headlining the historic event was Seattle's own Kore Ionz, led by Daniel Pak. Their songs swept over the crowd with a sweet island breeze, wooing dancers to the center of the floor.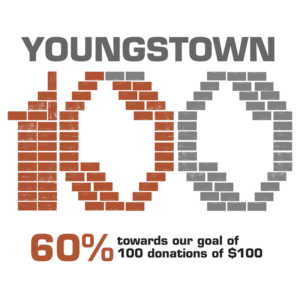 DNDA Executive Director David Bestock shared a bit of the history of the beautiful building, and invited guests to join in with the organization's platinum goal of 100 donations of $100. Thank you to all who joined us Sunday, and to those who've gotten us to 60% of our goal! Help make this centennial even more monumental by getting us to 100% by December 15th. Give online or by check payable to DNDA, mailed to the address below.
Thanks, again, for celebrating with us!
#Youngstown100
#ElevateYoungstown
Sincerely,
Delridge Neighborhoods Development Association
4408 Delridge Way SW #109
Seattle, WA 98106
206-935-2999
Some photos from the event: