THE WETLAND PARK CONCEPT PLAN IS HERE!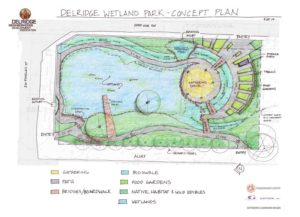 Attached you will find the conceptual plan for the Wetland Park.  The plan was produced by Pomegranate Center after gathering input from the greater community, project partners, educators and of course, DNDA.
We are excited by the design, as it incorporates so many elements that were proposed by our young students at K-8 STEM school and by educators, who wanted to ensure that elements included in the design would aide them in developing curriculum for their 3rd, 4th, 5th and 6th grade classrooms.  Now that we have a conceptual plan, we can begin to have detailed discussions with the City Departments who will issue permits that will pave the way for eventual construction.
Please share everywhere as this is what many in the community have been waiting to see!!!
-Willard Brown, DNDA Director of Housing and Environmental Programs