Now more than ever we want to give a big THANK YOU to everyone who participated in this year's GiveBIG donation drive for local nonprofits hosted by The Seattle Foundation. With your support, a whopping total of $5,208 was donated to DNDA— exceeding our goal of $5,000!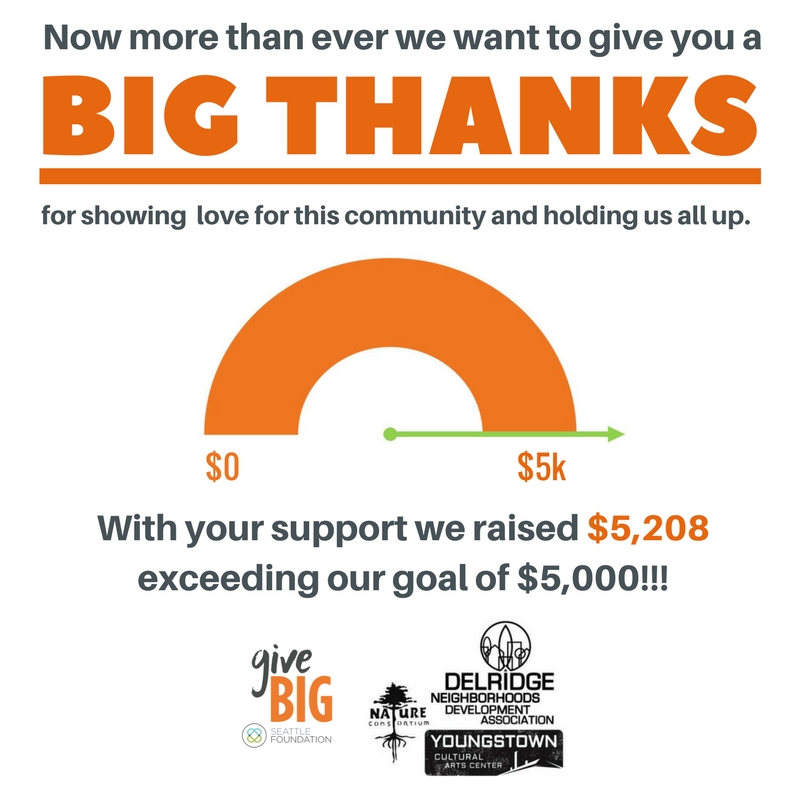 Your thoughtful gifts support our vision of a vibrant and thriving Delridge community. Thanks to your generous donations – and the support of an anonymous donor who put up a $2,500 matching gift challenge! – DNDA can continue to build valuable community projects in the areas of education, the arts, green space, healthy food, and restorative justice.
For example, GiveBIG proceeds will benefit community projects like:
Again, THANK YOU for showing dedication to our community and your support for DNDA! Like spoken word artist Carlynn Newhouse said at the most recent Destination Delridge event:
"Give to fight the powers that hold us down, and give to show the love that holds us up."
Through your donations you have allowed us to strengthen our collective resistance against all that holds us down and amplify the love that never fails to hold us up. We're in this together and, thanks to your GiveBIG contributions, we are more prepared than ever.
Did you miss GiveBIG but still want to contribute? You can always make an online donation to show your love for DNDA.