Gina Coffman, a long-time Cooper Artist Housing resident and amazing mobile artist, had beautiful words to share on the November 10th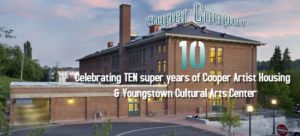 Super Cooper 10 art show opening at City Hall. See her message below, along with some photos from that night, and be sure to check out the show thru December 21!
---
Dear Neighbors, 
Last night was the opening for the Super Cooper 10 show at Seattle City Hall. I was blown away by the quality of the artwork of over 20 artists. There were also performances by current and past residents: Smitty, Karen, & Flynn.  Even though I've been here for a long time and know many of the artists in the building I left feeling like I have so much more to learn and celebrate about our community; we have some serious talent!
The show was lovingly curated by residents and YT Staff. Thank you to Renee, Smitty, Yvette, Kim, Erin, Erika, Lucy, David and anyone else who put time into help create this beautiful display and celebration of our home and Cooper family.
The show is up until late December. In the lobby of City Hall 601 5th Ave at Cherry St, and down in the Level 2 gallery. GO SEE IT if you can. I was happy that I did!
More info here
Gina
---