Did you hear the one where Albert Einstein and Pablo Picasso walk into a bar…?
It's no joke, instead a setup of the 1993 play by Steve Martin, Picasso at the Lapin Agile, which will be performed here at Youngstown Cultural Arts Center by Twelfth Night Productions. This long running show takes a step inside the Paris bar Lapin Agile to experience a surreal meeting between a young Einstein and Picasso just before their renowned breakthroughs.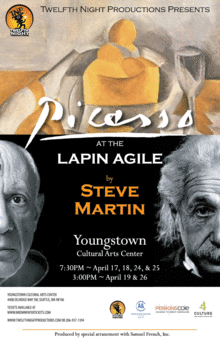 We're excited to welcome back former Youngstown employee, Caitlin McCown, now a cast member in the show. The cast and crew have been working on the play for months. This week, set design and dress rehearsals are underway and the theater has been bustling with the sounds of hammers and clinks to create the Cheers­-like set.
If you're familiar with Steve Martin, a Saturday Night Live alumnus, you know the show will be funny. But the comedic tone is a springboard for deeper elements and discussion. The bar is the setting for the two great minds to duke it out in a lengthy debate over art and science and which is more important in society. In fact, everyone in the bar seems to have an opinion on the subject.
Join us and be a fly on the wall for this historic (although fictitious) event. Picasso at the Lapin Agile opens Friday, April 17th at 7:30p with shows on Saturday and Sundays.