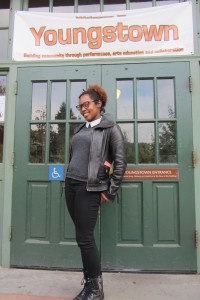 You may have noticed a new face in the office…
Please help us in welcoming Mayetis Dawson to Youngstown's staff. Mayetis joined Youngstown as the new Events Manager in September.
A recent Seattle addition, Mayetis is a native of Cincinnati, Ohio and comes to Seattle after having spent a year in Barcelona, Spain as a marketing assistant in the travel industry. Since moving back to the States, she's developed a passion for studying languages and Spanish cooking.
Prior to her international experience, Mayetis lived and worked in Chicago for 10 years, where she obtained a Master's degree in Marketing from Roosevelt University and a Bachelor's in Public Communications from DePaul University. She has worked in development and marketing for a non-profit organization dedicated to advocating for families in the child welfare system.
When she's not in the office, you'll find her attempting to learn a new language and enjoying dancing, writing, and zombie movies!
Mayetis values the importance of building a "tribe" – people to relate to spiritually, emotionally and socially – and is inspired by and excited to be a part of the Youngstown and Delridge community.